I spent Memorial Day weekend in Chicago, for my first appearance at the Chicago Open. I have been wanting to do that tournament for several years now. Back in 2020, when the shutdowns first started, I was initially really bummed because I had intended to do more ABT tournaments that year. But then online ABT came live, and it turned out that I was able to do a massive number of tournaments from the comfort of my own couch. Rory ran many of those tournaments, and used the "More Swiss" format for them, and I really liked that format. Chicago is the one live tournament that I know of using that format (and run by Rory, of course), and now you get the digression.
"More Swiss" works by pairing players at random in round 1, then in round 2 players who won play other players who won, then in round 3 players with a 2-0 record play other players with a 2-0 record (and likewise 1-1 pair with 1-1, 0-2 pair with 0-2), etc. The way it was run each player was guaranteed at least 4 matches in the main event, which is a more forgiving approach than the traditional main/consolation/last chance bracket structure of most tournaments.
I got in on Thursday, and played (and lost) a couple of side event matches – the limited jackpot and a "Taki board" tournament. Friday, I re-entered the limited jackpot, and lost again. So I re-entered a third time, and that time it stuck.
It was, naturally, a little discouraging to have lost so many matches before the main event even started. However, I seemed to be playing pretty well. I took pictures of a dozen or so decisions through those first couple of days, and most of them, I made the best decision. Of course, there were a couple of inexplicably bad decisions in there as well. For instance, this position (which came from the second round of the jackpot):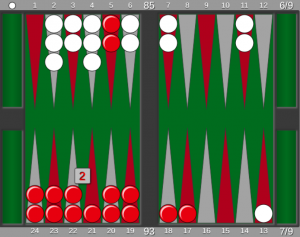 Here I'm leading 7-6 in a match to 9, and I've been offered a cube. My position isn't bad, and in a money game, or at a score of 0-0, I would not have hesitated. But, I did hesitate. I thought about the downside – if I took and lost, he would suddenly have me in the Crawford game, when I had just taken the lead in the match. Whereas, if I dropped, we would go into double match point immediately (as the cube would be offered early in the next game). Of course, if I took and won, that would be the match. But it felt greedy, and I talked myself out of the take, and it was a huge take.
Anyway – I played until late Friday night, eventually losing in the semi-finals of the jackpot. But, I had broken my losing streak.
Until the next day, when the main event started. Guaranteed 4 rounds, I proceeded to lose 4 in a row. So that was Saturday. Sunday, I got up bright and early to take part in the "Unlucky Dice Last Chance" event, which my opponent proceeded to smoke me in. I asked him how he had gotten into the "Unlucky Dice" contest, given he rolled approximately 80 doubles in our 5-point match. From there, it was down to side events – I entered the "Juniors" event and the DMP (1-point match) event. Those went pretty well, and I was kept busy for the rest of Sunday and through most of the day Monday in those events – reaching the semi-finals in the Juniors and the finals in the DMP.
I had a couple of exciting positions in the Juniors. For instance, here's a position where I am down 0-5 in a match to 7, on the bar, and considering throwing the cube!
Cubing from the bar is always good fun. My 0dds of winning the game are not that high, but a lot of times that I win, it's with a gammon. It's a pretty big double, and a monster take. However, not only did I go on to win the game, I won with a backgammon, swinging the score to me leading 6-5 Crawford! I hit his checker, he entered and rehit me, I hit that checker, and eventually got him with 5 or 6 checkers back.
A couple of rounds later, I had a troublesome checker play decision. I was down 0-2 in a match to 7, earlier in the game I had taken a cube and then recubed him, so the stakes were pretty high; and the roll – not my best.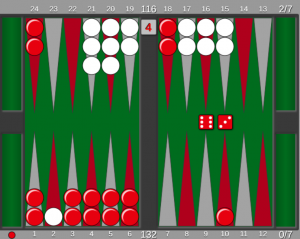 I stared at it for probably 2 full minutes. 24/18 seems mandatory, but then the only 3 is 10/7. Unless… "I'm thinking about the banana split", I informed my opponent, and he raised one eyebrow. And so I played 24/18, 5/3*, putting him on the bar. He danced, I covered the 5 on the next roll, he danced again, I brought a checker around, he danced a third time, and I was able to close him out. I won a gammon, and thus the match. On the other hand, the correct move was 24/18, 10/7. The banana split was -0.039 in equity; but it worked out.
You can watch me play the final in the DMP! The event was streamed, on the "second stream" for the event (so no commentary) – it's about the last ten minutes of this video.
When I went to cash out, Arda and I went in together, and after Rory paid us off on the DMP, I said I also had the semi from the Juniors, and he paid me for that, and then I said I also had the semi from the limited jackpot. "You've won a lot of backgammon this weekend, my friend", he said. And that's true – this was a pretty good showing, even given that I went 0-4 in the main event.
A number of Portland players are heading to Los Angeles in another week or so for the LA Open, and I am having some FOMO. But other obligations do, in fact, make it untenable for me to get to another tournament so soon. But I'll be watching the streams and hope to see one of them on there…
-Mark