We had a fine showing for this month's tournament – 17 players came out on a cool and breezy afternoon. We played out on Lucky Lab's patio, because why not? It was a little cooler than I had expected, and I occasionally regretted not having a light jacket or something, but the dice were hot and so that kept me going…
17 players does not, of course, lend itself to a clean bracket structure, so we had an unclean on instead, with 9 players in the "B" bracket, which made the event drag on a bit. This did not go unnoticed, but the alternative was to tell Cam (as the last player to arrive) that he was out of luck, and, well, it all worked out.
In the "A" bracket, I started off with a game against Rick, newcomer Edan took on Steven, Dave challenged Bodger, and Max tackled Tim (not literally). In each pairing, the first listed player advanced to the next round. After a fairly long road, with a number of long matches, Edan took out Dave in the championship bracket, and Bodger won the consolation bracket.
In the "B" bracket, newcomer Chaz took on first timer Adam (for the right to face off against Leah, who got the first round bye), newcomer Elisabeth faced off against Ian, Mark A drew Cam (who may have been the latecomer but he had RSVP'd), and Jeremy took on Joel. Again, in each pairing, the first player (eventually) won that match. After a protracted and complex bracket, Leah took first place over Elisabeth, and Mark A took the consolation bracket.
The new toy for me at this one was I brought an overhead tripod kind of setup and a small camera, to record my matches! This was the first time putting it into full production, and I learned some lessons:
Lighting. The lighting at the table I was at was… not great. The videos are a little hard to follow, as shadows on the board make distinguishing the colors a challenge.
Check your shot before recording. One little knob of the camera mount is partially blocking the view of the board, covering over about one checker's worth of that point, and making it not possible to read the die if it happens to end up there.
This camera… I need an upgrade already. It's probably fine, but the camera does break the recording up into 15 minute segments, so the two matches I recorded ended up being 5 different files.
Bring a bigger battery – I had partially used up the battery testing it all out at home earlier, and so the battery died after my first match. Fortunately I had a back-up, but I now know why people at tournaments always have their cameras wired up to a bigger battery pack.
Transcription ain't trivial. The app I used to transcribe is a little slow, and so I had to pause/rewind a lot to get the transcription done. But I did get it done!
The upside of all that is, I have a lot more than a few random photos of positions I thought were tricky at the time, and can see how I did overall on those two matches! And the answer to that is: not great! I'm a little disappointed in my PR from them. But then, it's not my most conducive environment either – I do get interrupted in most games to record results, or direct people to their next opponent, etc. Not really an excuse, and it's not like my PR was massively worse than when I play online (where, for instance, the pip count is just given to me). So, this is reality.
Here's a position where I made a massive blunder in my match against Rick. This is our second game, and I'm leading 2-0 in the match to 5. Rick had me on the bar and was beginning to bear in, when an unlucky sequence forced him to leave a shot, which I was lucky enough to hit, and get him trapped behind a 5-prime, cube him, etc. And then this, where I rolled a double 4.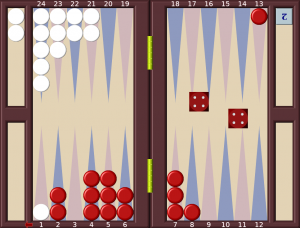 I have noticed that doubles get me into trouble a lot – like it's a lot easier for me to make a check play blunder off a double. Here what struck me was that I could hit him off the mid-point, 13/1*, then go ahead and cover that blot with 5/1. Seems so solid – put him on the roof, I still have 3 builders to make the 3 point… what could go wrong?
Well, he could roll 3-5 or 3-6, and escape (possibly hitting), and turn this around on me. Now, he didn't – but good luck isn't the same as good play. The computer suggests hitting off the 5 point, 5/1*, but then making the 3 point now with 7/3(2), then bringing the last builder into range with 13/9. If he rolls a 1, it's a little painful, and 1-6 becomes a super joker. But having him on a 1 keeps him contained a lot more than having him on the 3. I need to probably study this one to really get it – the computer's move feels super loose to me, but it claims a much higher win rate than what I did.
Here's a massive blunder I made in my match against Bodger, and I don't even have the excuse that doubles are hard!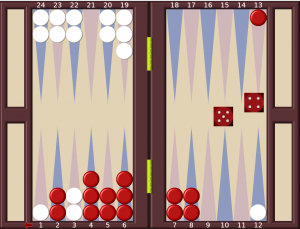 This is from the Crawford game (Bodger is winning 2-0 in a match to 3). I was thinking it was important to get his back checker off my ace point, and so I started out with 6/1*, then came down with the 4, 13/9. Except: he has a 5 point board, hits with any 1 plus with 3-6 (and a super joker with 1-6). So I have given him a lot of potential returns with that play. Better by far would be to make the much quieter play of 13/4, giving him no return shots, and just trusting that since I'm way up in the race that it will probably work out.
And here's another blunder from my match with Bodger (I made a lot of them…). We're at double match point (DMP), and I do have the excuse that doubles are hard, in fact it's double 4's again…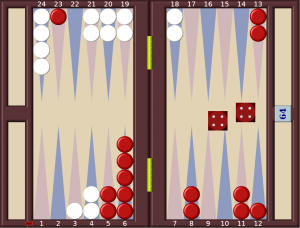 Here I happened to make the second best move, 11/3*(2), which happens to be a double blunder at -0.16 equity… The correct move is 13/9(2), 11/7(2), putting a 5 prime in front of his 3 back checkers. From there, my life is easy – I just have to get that last checker out and around before he escapes, and he probably further crunches his board. By hitting, I let him keep his 4 prime in front of me for longer – potentially making my life harder. In fact he got in right away, I escaped on the next roll, and it came down to who could roll more doubles in the bear-off (Bodger could). So if I hadn't recorded the whole match, I never would have suspected that I screwed this particular move up so badly!
Anyway – it was loads of fun, and I hope you all will join me at the next one – which will be the June 4th Championship Satellite events. See you there!
-Mark