We had quite a turnout for today's tournament – we keep setting new records! 26 players turned out, a full alphabet of backgammon! Well, technically, it was 27, but I did turn away one player who showed up after I had finished the bracket draws. 7 new players, plus a handful we haven't seen in quite a while. It was a gorgeous afternoon, and so we played (mostly) out on the patio again to enjoy to warm breezes.
The "A" bracket had Bodger over Tim in the first round, Steve over Dirk, David over Max, and (eventually) me over Jeremy. Jeremy and I had quite a match, especially the first game, which easily took over 20 minutes, possible over 30. It turned into a crazy two-sided back game. At one point Jeremy had 3 points on my home board and 2 on his, versus I had 2 points on his home board and 2 on mine. I told him I thought that meant that he was ahead… I have a checker position from our match I'll come back to later. Anyway – second round had Bodger taking out David, and me facing off Steve, who graciously made the long drive from Beaverton for the event. He gammoned me in the first game, but I survived Crawford, and had a lucky win in the third game. Then Bodger and I had what turned out to be a 1-game match. With a lucky hit after he got his first checker off, I was able to scramble around; but he replied with a double 5 to turn it into a straight race for the bear-off. By the end, he had 3 checkers on his ace-point, I had 4 checkers spread out over the board, but my double 6 sealed the match for me! It was an exciting game… Jeremy and Steve faced off for the consolation bracket winner, and Jeremy pulled that one off.
The "B" and "C" brackets both had play-in's to accommodate 9 players. I wasn't sure how I was going to make that work out with the consolation bracket, but luckily enough one person from each dropped out along the way (the tournament ran a little bit long with so many players…)
In the "B" bracket, Richard lost to newcomer Zach, Nathan lost to newcomer Jamie, newcomer Majid lost to Kyle, and Matt T lost to Bob H. in the play-in match. Mark A got Bob in the first round, and for his patience got kicked down to the consolation bracket right away. Eventually it came down to Zach and Kyle in the main, and Mark A versus Jamie in the consolation. Kyle took 1st place, his first tournament win! Congrats Kyle, you were definitely overdue. Mark A won the consolation bracket, which by the way puts him at an overall 6 out of 7 matches record for the year and (at least temporarily) front-runner position for player of the year. Bodger is lagging behind with a 7 out of 9 record…
In the "C" bracket, newcomer and supposed novice Zack R knocked out Leah in round 1, Philip returned for the first time in a long time to beat out newcomer Jorge, Rick D took out Dave K, and Mary defeated Pam in the play-in match. Mary then also took out Matt H, who had been waiting patiently. It ended up with Philip over Rick in the final, with Leah redeeming herself in the consolation bracket.
Thanks to Dirk for a good conversation after the tournament, where he pointed out that he (and maybe others) have first learned about the Portland Backgammon Club by stumbling across this blog, and so may not know where to go to sign up for tournaments, etc. So: if you want to know about upcoming events, the best way is to register to the group at https://www.meetup.com/Portland-Backgammon. I know there's the mailchimp as well, but I don't use it as much as I should.
We have the chouette moved up a week to next weekend, since the week after I will be going to Vegas for the US Open. We're back to our regular tournament schedule though at the end of the month.
A number of people asked if I've thought about moving to twice a month tournaments, and yes, yes I have. Look for more news about that in the near future!
Oh, and here's the position I mentioned – as entered into GnuBG as that's far cleaner than the photo I took. We're at 0-0 in a match to 3.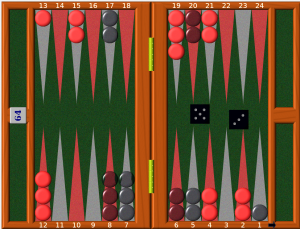 It's not a great roll. Nothing hits, nothing covers, nothing does nothing good. Eventually I settled down to two options: either 17/9; or 20/17, 8/3. According to the computer, that's pretty good, as one of those is the right choice and the other is the only other move that isn't at least a blunder. Part of the reason our match took so long, as I probably spent 5 minutes thinking about this one. But I settled on 17/9, and that is in fact the right choice. I'm proud of me on this one…
-Mark