We had a great turnout for this past weekend's second qualifier for the backgammon championship tournament – 18 players total showed up to compete. We had 14 entries in the men's tournament, and 4 in the women's, matching exactly the player mix from the first event back in March, but without me having to reassign any players.
For me, the tournament was short – JB knocked me out in the first match. I'm not claiming I played at my very best, but I will say, having recorded the match and transcribed it, that GnuBG described my luck level as "Go to bed!" I'll pull out a position or two for analysis in a bit.
The women's event resolved more quickly than the men's, not just because of the smaller field, but also the matches all lasted a reasonable 45-60 minutes. In the men's event, some of the matches stretched out to 75+ minutes long, which ended up holding up subsequent matches, etc. Anyway: Leah came out on top of the bracket for the second event in a row, meaning she has not only secured her entry into the championship tournament, but a first round bye! Andrea (making her first appearance at any of our events) came in second.
In the men's event, given that the event was running on and I had been eliminated a long time ago, I decided to not ask for a deciding match to determine 1st/2nd, instead giving both of the players who would go into that match the 1st place payout and giving them both an entry into the championship. And those two players were Tim and Paul!
To recap both qualifiers so far, we have the following people eligible for the championship event:
Leah (secured bye)
Liz
Andrea
Molly
Kyle
Tim
Paul
There will be two more opportunities to qualify – the next one is scheduled for August 27th, and the final will be scheduled for late October/early November, date TBD. The purse for the championship is already over $400, and I am planning on it being a trophy event as well, so you definitely want to try to get into it at one of the remaining qualifiers! I know I'm hoping to do better next time…
Speaking of doing better, here's one of the positions where I struggled from my match with JB: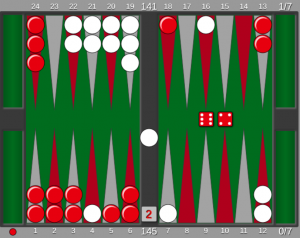 Now, earlier in this game, it was also a blunder for me to have accepted that cube, but I'm holding it now, and I am maybe in a position where I can turn it around. Not with this roll, of course – I needed maybe a 6-2 instead of a 6-4. But we have to play what we roll. With the 6, I have a choice between hitting another blot with 13/7*, or escaping one of the trapped back checkers with 24/18. With the 4… well, there are three legal and not foolish moves: 18/14, 13/9, and 5/1. Also 6/2, but that one I could immediately rule out. I decided that I preferred to pull one of the trapped back checkers out over hitting another blot, and given that I was aiming to start moving forward, I went ahead and lifted with the 4, 5/1. Huge mistake! Hitting the blot is the better use of the 6, and having done that, bringing another covering roll down with 13/9 is the obvious corollary. This is one of those "great if it works out" situations – yes, I might get hit back on the next roll, but if he dances, I am able to redouble on my next turn. That's a turnaround! Lifting looks safe, but it takes that checker out of play, and I still have a lot of work to do so I need that resource.
Well, it was a good day of backgammon, and as I said, several more opportunities to come. Also, this summer's Tour of Patios is scheduled – so please RSVP for those as well. Hope to play with you soon!
-Mark