What a day! We had the busiest backgammon tournament of the year this afternoon, by a long shot! In addition to the 12 players who made it into the championship bracket, we had another dozen who came to play in the 5-point blitzes "friends" events. I had a slight panic attack as play was starting that we were not going to have enough boards, since I foolishly did not bring my bag of spares. But some of the later arrivals all brought boards, and Diane's husband kindly brought in her little travel board, and we somehow squeaked by – at one point every board anyone had brought was in use, though!
For the Women's Tournament, in the first round both Leah and Sanam had a bye. Julie faced off against Hengameh, under Sanam's watchful eye, and Julie emerged victorious! Diane (on Kyle's board, not her own) played with Andrea (Ahn-DREY-ah, not AND-rhea, btw), also coming out with the win!
In the second round, Leah and Julie faced off. Leah took an early lead, winning a single in the first game, and 4 points in the second game! Both of them talked to me about the critical decision moment in that game afterwards: with the following position, Leah recubed Julie, who took: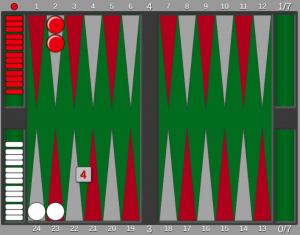 For those who are not as used to following this: Leah (playing red) is ahead 1 to 0 in the match to 7, and is holding the cube at 2. With two checkers left to bear off, she offers the cube to Julie at 4. If Julie takes, and Leah rolls a 1, other than double 1's, the Leah will win 4 points. If Julie drops, Leah will win 2 points. Julie was unsure if she should have taken, but it was absolutely correct! 10 times out of 36, Leah rolls a 1 but not double 1's, and then Julie wins 4 points. So more than a quarter of the time, she wins. If you can win more than a quarter of the time, and cannot lose a gammon, it's a big take, and here it is – dropping would be a -0.081 blunder. Of course, failing to double would be an even bigger blunder – if Leah had not offered the cube she would have been giving up -0.475 in equity!
Anyway – Julie clawed her way back from this 5-0 deficit, and they went on to a very even match score at the end; but Leah did manage to come out on top!
Meanwhile, Sanam and Diane were going back and forth over Kyle's board. I got a lot less play-by-play there, but Sanam did secure the victory, and so she advanced to play Leah in the final!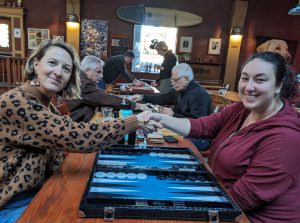 After a closely fought match, Sanam emerged as the 2023 Portland Backgammon Club's Women's Champion!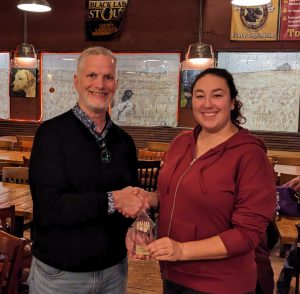 In the Men's Tournament, Paul had a first round bye. Due to some miscommunications, Andres unfortunately did not make it, and so forfeited to Molly in round 1. Kyle faced off against Dave (on Dave's board since he had loaned his to the cause), and came out on top. And Tim played against Jesse, securing a first round victory on his own board, making him the only home board advantage of the day I believe.
In the second round, Paul took out Kyle after a fair amount of back and forth. Tim took an early lead over Molly, securing a 5-0 lead – shades of what happened in the match of Julie against Leah! And just as in that match, Molly began clawing her way back, making it a very tight match by the end – one in which Molly came out on top!
And so we had Molly facing Paul in the final round: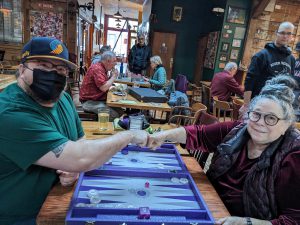 Paul got off to a good start, and soon Molly again found herself in a position of trailing 5-0! I happened to get a photo of a position that came up in that next game, where Molly offered Paul the following cube: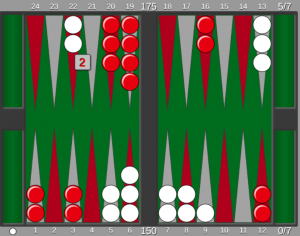 That is, Molly, here playing white, is offering Paul a cube. If he takes and pulls off the win, he wins the match. With a double anchor on Molly's home board, his winning chances are not bad – but the deficit in the race is not enough for a back game. If he drops, Molly is on the board, trailing 5-1. Should he take?
It is a very good cube, and a very close one. The difference between the double  and playing on is about -0.02. But it is an enormous pass – about -0.4  blunder to even consider a take. It was a good start for Molly to begin clawing her way back. However, this time she could not quite get all the way to victory, and so Paul came out as the 2023 Portland Backgammon Club's Men's Champion!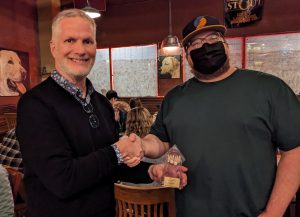 Congratulations to both our champions!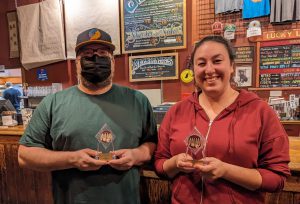 Meanwhile, while all this was going on, we ran a total of 6 (!) 4-person blitz brackets – congrats also to Pete, Bodger, Jeremy (twice), and Mir (also twice) on winning those events!
So an awful lot of backgammon got played. You may be wondering what that means for the race for Player of the Year. Well, let me tell you: it's super close right now. Leah is currently leading – by 1 game! Tied for second right behind her are Dave, Jeremy, and Sanam. And Paul trails them by only 1 more! So depending on who can make next week's monthly tournament and how they do, it could easily go to any of them! Did I mention that JB and Nathan are right behind Paul? I have no idea who is going to get the prize! Come out next Sunday and let's see!
-Mark