Yesterday, I took part in the 9th annual Bellingham Winter Classic. It was my first time up there – I had been invited a couple of years ago but the timing didn't work out that time, and it was a great little event. 16 players showed up for the "A" flight, and I believe another 8 for the "B" flight.
Tim also made the trek up from Portland, and we joined 4 players from Bellingham, 8 from Seattle, and 2 from Vancouver BC. Neither Tim nor I made it especially far in the main event, but we then did a fun little round-robin with Chris and Kristi. It made for a full day of backgammon, and I was able to get back down to sleep in my own bed last night, after a pleasant stop in Seattle to spend a little time with my daughter.
Michael, our host and organizer, has some big ideas. One thing he would like to do is have a regional event, pitting Vancouver BC, Seattle, Bellingham, and Portland against one another. The idea is that each place sends four players to the match, and the best overall team result wins the day, and then hosts the next year. I'm always up for another event, so we will see if we can pull that off.
Here's a position that came up in my second match of the main event, against Kristi. Just a few rolls into the game, I'm on the bar, and was offered the cube. Should I take?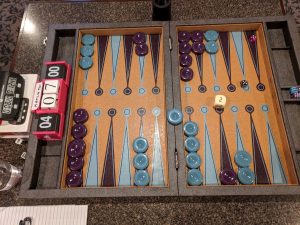 I like this one, because the match score comes into play. This would be a blunder to pass for money, or if it was the first game of the match. But it's a borderline double at this score – XG mobile says it was -0.003 for her to offer the cube at this point. But human psychology wise, definitely the right move. It gave me pause. I did take, and she went on to win by a gammon.
Overall for the main event: I got crushed in my first match against Karl, losing 9-1. He pointed out one position where I made a clear blunder, but it was also a match where I just couldn't get any breaks and he rolled a lot of big doubles when he needed them. Ah well. I did win my match against Kristi, although it was quite close. And then I lost my match against Joe, although again it was quite close. Both of those last two came down to the winner getting one more double in the bear-off than the loser.
All in all, a good time – I look forward to returning next year.
-Mark