I spent this past weekend in LA for the 45th annual Los Angeles Open. This was my third time in LA, and Candace puts on a good show. It's one of the easiest tournaments for those of us in the Portland area to get to as well – multiple direct flights daily, the hotel is super close to the airport, etc. And this year, they hosted the annual USBGF awards dinner (although I did not attend that).
Portland had a good showing, with David and Max coming as well, and Bryan came down from Seattle at the last minute after I agreed to let him bunk with me. David and Max went down for the jackpots on Thursday, but Bryan and I both got in on Friday morning. It is more fun having a crew of people you know around, although it sometimes leads to unfortunate pairings, as when Max and Bryan faced off against one another in the 2nd round of the main. That, by the way, is foreshadowing…
My first match went fairly quickly – my opponent, Raid, was not used to the doubling cube, but was excellent with his checker play. So I got to enter (and lose) a number of blitz matches for the rest of the afternoon. I also got a couple of rounds into the DMP – an event I trophied in at my last LA appearance – not to brag. That, by the way, is also foreshadowing…
Round 2 I faced off against Ron, who had trounced me in one of the blitzes earlier in the day. Fortunately, I was able to turn that around in the main; taking the first game and never losing the lead from there. After an especially lucky doubled gammon got us to Crawford (8-2), he pulled back, but I was able to finish him in the game after that. My next opponent was coming out of the 4 unlucky souls who had an anti-buy in the Round 2 draw, so I was able to head up to bed early to finish my first day.
First thing the next morning, I faced off against Babak, who had stayed up late the night before to get to Round 3. We had a good match, with a lot of back and forth. This was his first tournament as well, and he ultimately did quite well – cashing in fact.
From there, I was suddenly in payback mode for having an easy day on Friday – my match was always the one holding up the tournament, and so my next opponent was always waiting for me for the rest of the afternoon. Normally, it's easy enough to sneak off for a sandwich or something at some point; but I subsisted on some almonds and lots of stress.
Round 4, I played Stephen, brother of Art, who was being inducted into the hall of fame later that day. Stephen is not as much of a backgammon player as his brother, but he was definitely one of my harder matches of the weekend! I have a couple of positions from that match to look at.
In this first position, from our 5th game, I am down 1-4 in the match to 9. After quite a bit of mutual hitting, I am coming off the bar with a roll of 1-4. But, what to do with it?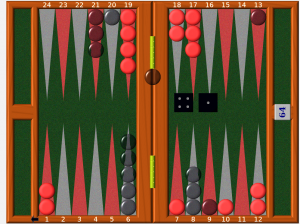 At issue, I have 3 blots scattered around the board, in addition to the one coming off the bar. That's my biggest problem at the moment, and this roll lets me take care of two of them, just… which two? I can play bar/20, giving me two points on his home board, but too advanced for a backgame. Or, I can play bar/24, 13/9 – preventing any additional checkers from being sent back just now, but also giving him a few rolls that extend his 3-prime in front of those back checkers. Finally, there's also a potential hitting play, if I don't mind adding yet another blot to the mix. I actually thought about that one, but rejected it pretty easily, which is good as that's a massive blunder.
Ultimately I went with bar/20. Stephen commented that this was the kind of position where you struggle and struggle, and it doesn't make much of a difference – and that's exactly correct! Based on rollout, bar/20 is wrong… by -0.001!
The next position is two games later, and I've fought my way back to a 5-4 lead. I cubed him earlier in the game, and now have a 5-6 to play.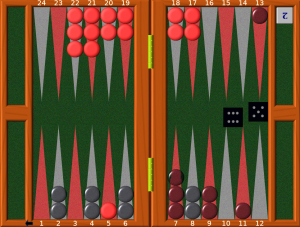 The question at hand is: hit or not? 11/5*, 13/8 puts him on the bar, and gives me a good chance to gammon him and win the match right here. On the other hand, it gives him a chance to roll a 5 (or a 3-2, or a 4-1), put me behind his 6 prime, and potentially win a gammon himself. The more passive play, 13/7, 11/6, still has some potential to point on him the next roll, and is not so terrible – I will have 8 cross-overs before I can bear off versus 7 for him, but then he has a bit of wastage with the checkers on his 3 & 4 points. I did the chicken move, he escaped with a 5 on the next roll, and I felt like I dodged a bullet. But my play was wrong by quite a bit! -0.06 error to not hit…
The final position from that match is two games later, where I am now down 5-7 (I told you there was a lot of back-and-forth!). This was another one with a lot of hitting, but mostly me hitting him – and then him not dancing. Question is, should I now double?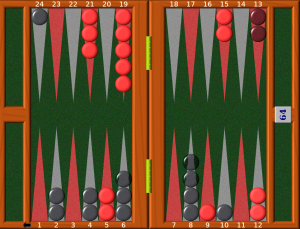 Yes, yes I should. Down 5-7 in a match to 9 means I'm 4 away, he's 2 away. That's a special score, the trailer has good doubles from positions that are too weak to double in a cash game or an early match score; exactly this position for instance. Good double, easy take. Not doubling is only a -0.036 error, so it's not obvious. I am moderately proud of myself for finding it.
After this game, the score stood at 7-7, and we stopped for an extended period to determine that (a) the winner was guaranteed to cash, (b) the loser could still cash as well, and (c) the straight dollar amount to hedge was therefore complicated. At the advice of Pat Gibson (tournament director extraordinaire) we did a final % swap – that is, we would ultimately trade 20% of each other's final cash position. I had already traded Bryan a 10% equity swap before the tournament started, meaning I was now down to keeping only 70% of any cash I won. But Bryan and Stephen were both still in the running to place ahead of me, so not too shabby.
I went on to win the DMP game based on a late hit, followed by an escape, another hit, ultimately a race, and getting multiple doubles in the bear-off. In other words, backgammon at it's finest.
Then, without much of a pause for breath, I went on to play Brian V for the semi-finals. We also agreed to a 20% equity swap, which in retrospect was not necessary. It was a pretty drawn out match, but it was again one where I took an early lead and never lost it. As that wrapped up, I had played for roughly 6.5 hours straight. So, all in all, a pretty good day!
The next day, I had a little wait to get my final opponent, but I knew it was one of two people: either Babak (who I had defeated in round 3), or my roommate for the weekend, Bryan! For years we've been saying "See you at the final table" at the start of a tournament, and now it had finally happened! Because Bryan smoked Babak in their match… I got a photo of us sitting down to play before the match began: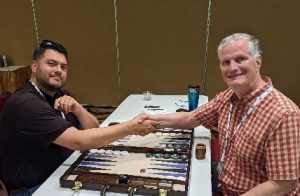 And it was a great match. I took the first game, Bryan took the second and third. I regained the lead with a doubled win in game four, Bryan tied it back up in game 5. Game 6, Bryan sent me reeling with a doubled gammon, putting him up 7-3. I don't know the match equity table well enough – it's possible that's a score where I should have been aggressive with the cube, but I was afraid to throw it, and anyway he won the game, putting me at 3-8 Crawford! With my back against the wall, I played as aggressively as I could, and survived to be 4-8 post-Crawford. In the next game, I of course doubled immediately, and got to the following position.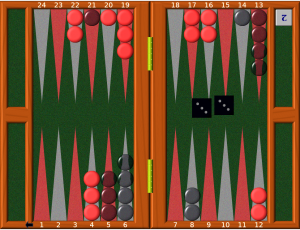 This was the point where I felt the most pressure on a single move probably for the whole weekend. What I wrote down as my move doesn't make sense, but best I can recall, I played in 14/8, 13/10(2). The alternative I was mainly considering was 14/8, 21/15; but I also thought about 21/15, 13/10(2) for quite a long while. Turns out, those are the three top moves, and I picked the middle one. I'll leave it as a puzzle for the reader to decide which was better…
Fortunately for me, I ended up winning a gammon on that game, and Bryan and I were at 8-8 post-Crawford – a DMP for the championship! It was another back-and-forth kind of game, too – he was massively up, I got a late hit, got to start bearing off, left a blot, he hit it, came around, and we got down to a very tight race. I don't remember the exact details, but it was not a lock until the very last roll – where Bryan cleared his last two checkers to my one checker on the ace point! So congratulations to Bryan, the 2022 Los Angeles Advanced Champion!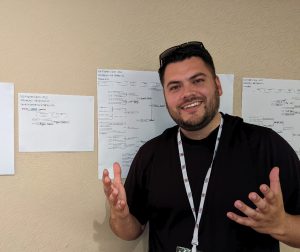 I'll get him next time… 🙂
I played a few more side events, and ended up cashing in the DMP again, although I had to leave for my flight before all the brackets for that event had finished. So all in all, my best performance yet at an ABT event, and the fourth ABT event in a row that I brought home some kind of trophy ("Finalist" in this case, but I'll take it). If I keep this up, they're going to kick me up into the Open bracket, and I won't win anything for another 5-6 years. But that's ok – I'm happiest of all that I'm still getting better at the game as time goes on.
-Mark